www.hiphopshopnl.com
Hippy Junior created HipHopShopNL with the intention of giving artists in the local hip-hop community an opportunity to make a career out of there passions. HipHopShopNL is the go to place to purchase official merchandise for the island's premiere artists. 
HipHopShopNL Inc. is a non for profit organization located in St. John's, Newfoundland. Our mandate is to provide support, resources and services to the Hip Hop community of Newfoundland. This Includes but is not limited to music. We currently offer many services to our community such as; live events, music production, video production, distribution, merch, housing information, food sharing resources, education opportunities offered by other programs, sponsorships and a safe environment to express ourselves. 
The idea for HipHopShopNL came from a determined artist named Hippy Junior who seen an ability to bridge the gab within the old and the new hiphop scene!
For a while up until Hippy began hosting events, the only platform available for HipHop in NL was a "Pay to play". This is why when Hippy created HipHopShopNL, His goal was to ensure no artist would ever* pay to play their music during our events. In fact, the opposite is generally the Idea! 
In May of 2020 Hippy decided to sit to a table and take this idea to the next level. Carefully selecting and creating a board of directors with previous business experience, a mission to help the community and enough determination to make anything happen. After spending months revising, Hippy relaunched as HipHopShopNL in June of 2020!  
HipHopShopNL has successfully hosted 7 shows in 2020 with sponsorship from Maryjanes Smokeshop, Sobeys NL, Og Growers, Music NL, Progressive Ent and HipHopNL. We have also designed and created clothing for 12+ artists and businesses in NL! 
We are a community, If one of us makes it - we all make it. This is a different approach. Contact us if you would like to be involved! - Sponsorships/Charitable Donations/Services Welcomed! 
Looking for the current volunteer positions: 
Graphic Designer positions 
Advertising positions(marketing/promoting) 
Fundraiser positions 
Send your resume to hiphopshop@hotmail.com and call 7093512570 to speak with Joshua. 
Questions? - Contact us
Connect with our email - info@hiphopshopnl.com
Call us -
CEO - Joshua Roberts
709-351-2570
Visit our Facebook page and check out our Instagram!
Formed Early 2019 - Revised and relaunched in June of 2020. Finalized Incorporation January of 2021.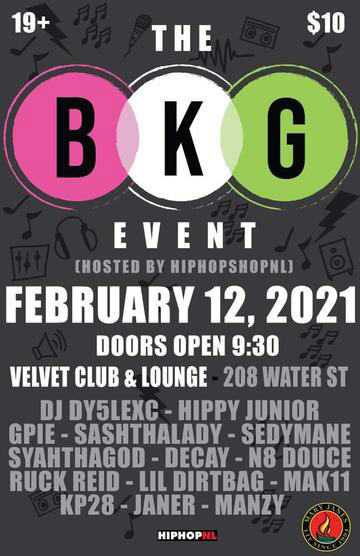 February 12th - The "Best Kind Gang" Event!
Location - Velvet Bar & Lounge (208 water st.)
Cover - 10$
HipHopShopNL is bringing forward a fundraising event! With sponsorship from Maryjanes so far, as well as support and involvement from all of the artists on our list for this evening, we are proud to present The "Best Kind Gang" Event.
With current Covid19 restrictions enforced, we have a limited capacity, a mandatory mask rule as well as a no dancing rule to follow. No worries - as our staff are Covid Safety trained!

Our main goal of this evening is to contribute ALL PROCEEDS AND PROFITS to the BKG Studio on behalf of all hiphop artists in Newfoundland.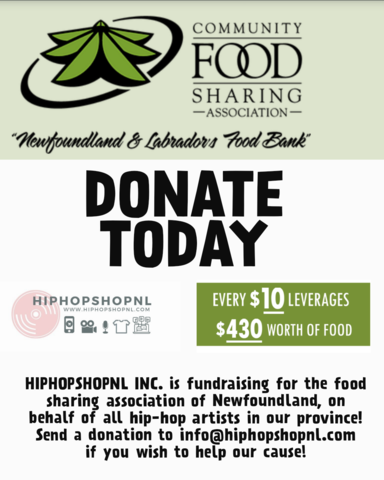 On Feb 1st, 2021 - The HipHop community of Newfoundland delivers a donation to the Food Sharing Association! Hosted and collected by HipHopShop NL Inc. and on behalf of all of the artist's in our province, this donation is one of many to come from our community.  Proudly providing an approximate donation of 420$* in total. 
Please contact Joshua at 7093512570 or by emailing info@hiphopshopnl.com if you would like to become involved in future projects and events! 
If you wish to donate to the organization, please send your donations to info@hiphopshopnl.com. 
All donations are used to significantly improve the services and resources for the Hip Hop community!